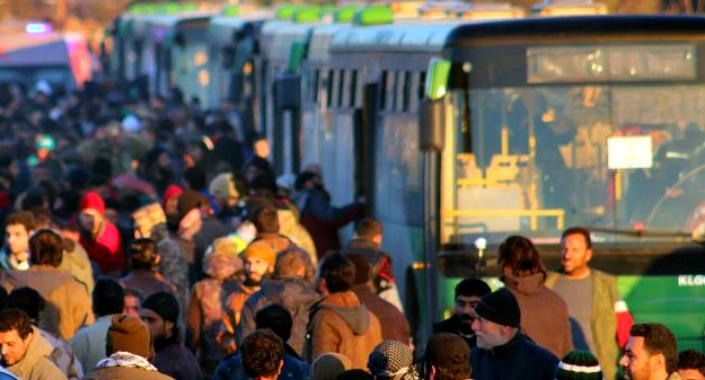 The Mess
The whole mess called the Middle East is exactly that- a mess. In order to understand the conflict we need to understand the root issues that led to the current situation.

In the Arab world a person's loyalty is to their family and clan. They have little loyalty to their city and much less to their country. The idea of a country is a foreign one to Arab culture and this contributes to many of the problems in the Arab world.

The majority of Arabs are Muslims. There are two major groups of Muslims- Shi'ite and Sunni. The Shi'ites and Sunnis have been at war with each other since a disagreement in 632 C.E. over who would be the heir to the prophet Muhammad. This disagreement has been the basis for many bloody wars throughout the Muslim world.
There are many other ethnic groups spread around the Middle East – including the Alawite, Druze, Kurds and Yazidis among others.
Throughout history, until the fall of the Ottoman Empire, there was free movement of clans throughout the area. In the modern period borders were decided upon without taking peoples and clans into consideration. It ended up that there were many clans in one country and sometimes one ethnic group was split between many countries.
In each country there was one clan that ruled over the others. The ruling clan benefited from their power and the other clans were treated as second class citizens. Only a strong and sometimes ruthless leader was able to keep all of the clans and peoples in line and keep the country functioning. If the central power wavered the country would fell into anarchy with each clan fighting for its own.
These factors- loyalty to the clan, Shiite and Sunni dislike, and a combination of other ethnic groups are the basis of the instability in the Middle East.
This is what happened in Iraq. Liberia, and Syria.
Assad, the leader of Syria, is Alawite. Although the Alawites see themselves as Muslims, most Muslims see them as heretics. The largest ethnic group in Syria are the Shiite Muslims who started a revolt against Assad. As opposed to other countries that experienced the 'Arab Spring', in Syria many minorities in aligned with Assad fearing that they would be worse off under Shiite control.
As the rebel forces pushed away Assad's control a vacuum of power was created. That created a situation where any person with charisma who felt that they could win could have conceivably created their own state. ISIS also noticed the opportunity and stepped in.
Iran supports many Shi'ite factions around the world including the Hezbollah in Lebanon. When Iran saw that there was a danger of the Sunni gaining power in Syria, they sent the Hezbollah in from Lebanon. As time went on and they saw that the regime of Assad was losing power.
In addition to their proxies they sent Iranian soldiers into Syria.
At the present time there are Muslims worldwide traveling to Syria to fight on either the Shi'ite side or the Sunni side.
To make matters worse- the non-committal Obama government stuttered and was unclear on where it stood in the conflict. Seeing the lack of leadership in America, Russia saw the possibility in growing their influence of power and swooped in to aid Assad.
Rather than get directly involved, America armed Kurds and used them as proxies against ISIS. Russia is currently bombing Kurds because the kurds are also fighting against Assad, meaning that on that front Russia is unintentionally helping ISIS….
In comes Turkey! Although Turkey is backed by America, as are the Kurds, Turkey has had an issue with the Kurds for well over a century. Turkey is not passing up this opportunity to pummel the Kurds.
Currently there are over 600 armed factions fighting against one another. It is estimated that close to half a million people have been killed and millions have been displaced.
The Israel Side
In the Middle East is the phrase 'My enemy's enemy is my friend' does not hold true. All of the aforementioned clans, countries and others are, if not at a state of war with Israel, at the very least are anti-Israel. Any side that Israel attempts to help will be turned on by everyone else.
Syria has been in a state of war with Israel since 1948. The current border between Israel and Syria is not an agreed border. Rather it is a cease-fire line that has been a point of debate since 1967. Syrian civilians who are caught in the middle grew up knowing that Israelis are demons and have no love for Israel.
Due to these reasons, from the beginning Israel adopted a policy of not getting involved. For us in Israel the bottom line is that there is a huge armed conflict going taking place on Israel's northern border.
So what is Israel doing? Where is the most humane country that sends aid to every disaster? Good question!
Relatively early in the conflict wounded Syrians were being smuggled to the Israeli border. Israel quietly, and under cover opened up field hospitals to treat the wounded by the border. Israeli doctors treated the wounded in the field and sent them back. Soon the severely wounded people were transferred to bigger hospitals in the north. Once the treatment was finished they went back into Syria. Some of these people who were treated praised Israel while others said that they wished Israel nothing but destruction!
Israel doesn't ask how the person was wounded or whether the wounded person is a civilian or a combatant. To date
Israel has treated more than 2600 Syrians.
Recently there have been three positive developments in Israel's involvement. These changes in policy towards Syria are on the humanitarian level and far away from anything military.
1. An Israeli civilian organisation called "Across the Border" is raising money and sending aid to civilians in Syria.
2. Israel started openly accepting wounded civilians, as compared to their previous undisclosed medical aid.
3. Israel recently announced that they would absorb a number of orphaned Syrian children.
I believe that there is more that we have to do to help the people suffering so close to us, but I am very proud of my country for taking these steps to help an enemy in need.