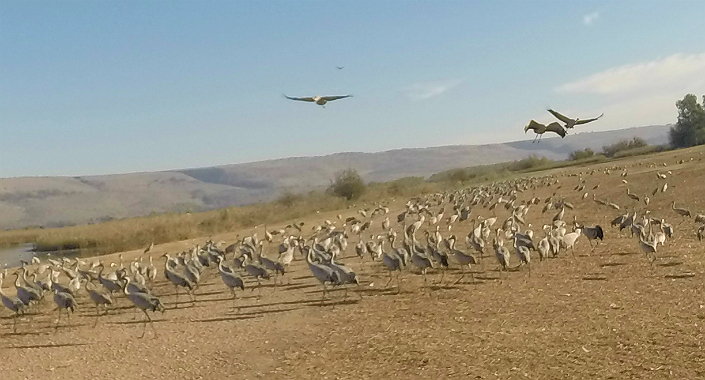 Birds, Migration and the Hula Valley
Every year millions of birds travel across the world in order to be in optimal breeding places at the right time. In general, birds enjoy spending the spring and summer months in the northern hemisphere and the winter months in the southern hemisphere where it is warm and where food is plentiful.
Some birds are known to travel as far as 14,000 km each migration. Birds can fly high enough to traverse the Himalayas and other high mountain ranges.
There are two main methods of migration. Smaller birds, such as quail and hummingbirds, "actively" travel the great distances. They fly overnight for long stretches and then spend a couple of days eating and recuperating before their next flight. Because they spend the entire flight flapping their wings, they are able to cross large bodies of water.
Larger birds such as storks and cranes use thermals and glide over large distances. This means that the large birds have to fly during the day and over land.
These factors together result in large numbers of birds at bottlenecks between the hemispheres, in places such as southern Mexico, Gibraltar, the Philippines, and surprisingly enough, Israel.
Now, if you take large numbers of birds and bring them to an area which is relatively warm, quiet and has food and water, the birds will feel as though they checked into a five star hotel. Some birds will stop for a quick bite and carry on, some will stay overnight, and some may decide to stay.
This is what happens at the Hula Valley, which is a paradise for birds and bird watchers alike!
The Hula valley, located in northern Israel, is a large valley between Upper Galilee and the Golan Heights. The valley was originally wetlands which were the perfect place for the birds.
These wetlands were dried up by Israel during the 1950's to make room for agriculture. This devastated the ecological balance of the area and many of the birds stopped migrating over this area.
In the 1960's, Israel recognised the depth of the mistake and part of the valley was reflooded. Over time, many of the birds which had stopped visiting started to come back, and only recently a frog which was thought extinct was rediscovered!