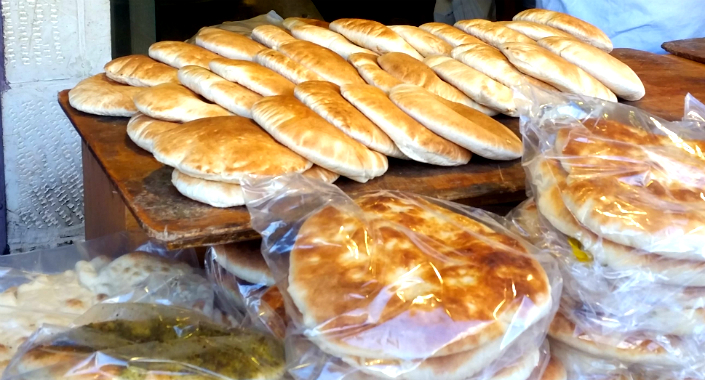 In Israel, whether you're sitting at home and getting a snack, going out for a falafel, making lunch for your kids or sitting in a high-class chef restaurant, there will always be one thing in common-
The humble and majestic pita.
The pita has a long history. It first originated in West Asia around the year 2500 BCE, in the time following it spread across the middle east and became a staple of the middle eastern diet.
There are a few  different techniques used to make pita. Traditionally they are baked in a stone oven although nomads cooked them over fires in the form of a laffa – a larger thinner flat bread without a pocket.
In modern times there are special mechanic ovens that bake the pitas from both sides ensuring that a beautiful pocket is formed.
The pita is a humble bread it is relatively cheap  and the most common bread in Israel and in the middle east.
At the same time it is frightfully versatile and the perfect side kick to many different styles of food. whether it be packed, used to scoop, to mix or any other form of use.
From labane to shakshuka, falafel to shwarma or the beautiful sabich- pita is the bread that you're looking for!
Over the years i generally made pita at various campfires or tourist related gatherings- using a simple mixture of water and flour then tossing it over a large saj which was placed over a camp fire.
nothing too complicated- very straightforward.
One day I was at home and made shakshuka only to realise to my horror that I had no bread so I quickly made some pita before the food cooled down. It tasted just as good cooked on a stove top and not a fire.
Pita is a delicious bread and easy to make anywhere and everywhere. With this little and simple recipe you can bring some of Israel into your house wherever you are!!
This is a very basic pita recipe. They can be baked over a saj (upside down wok), in a dry frying pan (no oil) or the oven like you would any flatbread bake.
1 kg flour
1/4 cup oil
1 tsp sugar
1 tsp salt
11/2 tsp yeast
Up to 3 cups water
Let raise for 1 hour
Split it to as many pitas as you want and rest for another hour.
Flatten them out into circles 1 cm thick and bake.
Bake until they are puffed up and slightly brown.
best eaten with zatar spice and olive oil!
Enjoy!!