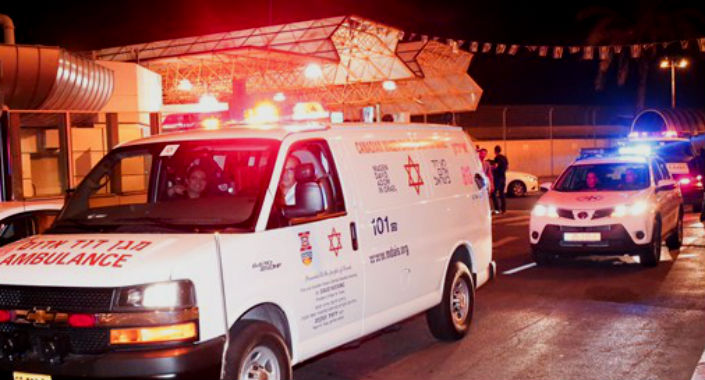 Yesterday I walked into the park with my son. There I met my wife who had earlier gotten my daughter from her kindergarten.
'Did you hear?' she asked
'Hear What?' I replied
'There was a terrorist attack a little while ago beside Ariel' she continued
"I didn't hear anything yet'….
In the few minutes that followed we realized that Rabbi Itamar Ben-Gal from Har Bracha had been murdered. He was stabbed to death while on his way home after teaching at a high-school in Givat Shmuel.
His family is very close to my sister in-laws family. My wife was shocked.
In a matter of minutes a family, that we were used to seeing a couple of times a year, was destroyed.
As we got home, we took care of our kids, made a few calls and turned on the news.
The first story on the news was a short blurb about the terrorist attack followed by footage of police arresting
Jewish protesters who started to demonstrate against the resent terror attacks.
While being arrested one of the Jewish boys yelled out 'how can you arrest me while the blood is still warm on the street!' I felt like he was right.
The news continued on as two how this was similar to two other recent terror attacks and then switched to the regular pre-filmed items about shopping and politics.
After the news the regular TV shows were aired. On social media I saw next to no mention of the terrorist attack.
I am sad, insulted hurt and outraged!
From both the terrorist act and the way it has not been over reported in the media.
We got to used to picking up and carrying on.
I don't understand how a man was just murdered by terrorists and the country barely pauses. I don't understand how we have become so 'used to it' as a society that we allow ourselves to not be outraged!
To the terrorists it doesn't make a difference who the man is and where they lived. there were no questions asked before the attack. All the terrorist cared about was killing someone who was Jewish.
We have to carry on. We can't get stuck in depression. But at the same time we cannot allow ourselves to be jaded for that more than anything else would be a victory for the terrorists!
We cannot allow this to be just another name. we cannot allow any name to be one that passes in a second as we carry on with our lives.
We have to be outraged and demand outrage at every single attack and ever single rocket as they are all attacks on our people and our nation!